2022 GAEL Winter Conference Registration is Now Open!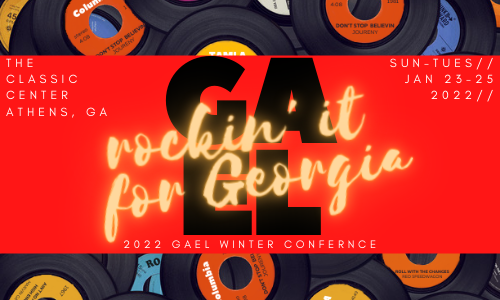 January 23, 2022 – January 25, 2022
The Classic Center, Athens Georgia
In-Person & Livestream registration available!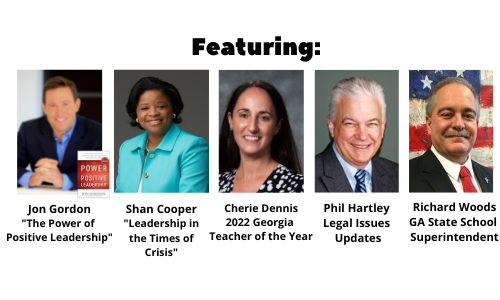 Jon Gordon: "The Power of Positive Leadership"

National Best-Selling Author of The Energy Bus and The Coffee Bean, joins us this January to uplift us with a message from his book The Power of Positive Leadership. The research is clear. Being a positive leader is not just a nice way to lead. It's the way to lead if you want to build a great culture, unite your organization in the face of adversity, develop a connected and committed team, and achieve excellence and superior results.
Shan Cooper: "Leadership in the Times of Crisis"
Shan Cooper is the former chief transformation officer of WestRock and was responsible for the Recycling and Waste Services Division, procurement, enterprise logistics and information technology. Prior to joining WestRock, Shan served as vice president and general manager of Lockheed Martin Aeronautics Company. One of Georgia Trend Magazine's "Most Influential Georgians" in 2012, 2013, 2014, 2015 and 2016, she was also named one of Black Enterprise Magazine's Most Powerful Executives in Corporate America in 2017.
Plus a special Sunday Night Performance by the Swingin' Medallions!
Conference Agenda Link (tentative)
Prices:
 $325.00 for GAEL Members
$475.00 for Non-members
Hotel Reservations Link: Coming Soon!
Disclaimer for Livestream Participants: 
While livestream participants will have access to all keynotes and presentations in the general session on all three days of the conference, GAEL is not able to livestream all concurrent breakout sessions on Monday. Livestream participants on Monday will have access to select breakout/concurrent sessions after the General Session keynote from Jon Gordon.
Email Ivy Young (iyoung@gael.org) if you have any registration questions.
* Please note our conference cancellation policy: Due to commitments to our facilities and partners, cancellations are subject to a $75.00 fee up to January 4, 2022. After that, the full fee will be charged. No-shows at the event will be charged the full fee.  Cancellations must be in writing. In the event that the conference is unable to be held face-to-face, we will not cancel the conference, and the conference fee has been reduced to account for this contingency. Instead, general session topics will be held virtually at dates to be announced if we are unable due to hold the conference face-to-face safely due to COVID-19, severe weather, or other large-scale emergencies or acts of nature.
Please email Ginny Smith, gsmith@gael.org,  to cancel a registration.